| | |
| --- | --- |
| | Thorough application of CFA's unique antimicrobial BioShield® 150 inhibits the growth of bacteria, mold, and fungi 24/7 for up to 2 years. |
| | |
| | Proven protocol and procedure that ensures detailed cleaning and disinfecting of all surfaces before long-lasting antimicrobial treatment is applied. |
| | |
| | Application schedule is extremely flexible and minimally disruptive to operations. |
| | |
| | Can be applied to any surface, including: lockers, tables, office equipment, tables, showers, toilets, weights and weight benches, and cardio equipment. |
| | |
| | Long lasting protection for a variety of industries including: hospitality, construction, marine, transportation, real estate, veterinarian, health, nursing homes, daycares, schools, law enforcement, military and more! |

The thorough application process begins by cleaning and disinfecting areas tabbed for antimicrobial treatment. This part of the process effectively eliminates illness-causing microbial contaminants such as MRSA, staph, H1N1 (Swine Flu), and ring worm. After properly cleaning and disinfecting the surfaces tabbed for treatment, the unique and innovative antimicrobial power of BioShield® 150 is applied.
Just one treatment of BioShield® 150 will inhibit the growth of bacteria, mold, and fungi on surfaces for two years when applied by certified applicators. This product is vastly superior to other technology -- not only because the water-based antimicrobial fights a wide array of microbial growth 24/7, but also because BioShield® 150 will not create adaptive organisms or "super bugs" like MRSA. The non-leaching antimicrobial characteristics of the product make it the worlds most durable and long-lasting antimicrobial coating. Keep in mind, the antimicrobial technology powering BioShield® 150 is the safest and most environmentally-friendly technology of its kind.
CFA's professional applications are warranted for up to two years.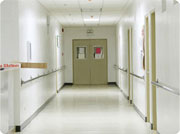 Call us today to set up an appointment or for more information on the CFA BioShield® 150 Professional Application.
Call us toll free.
1-800-631-7232
Athletic directors!
Looking for our Turf & Surface Professional Application?